Best Viewed in W3C Compliant Web Browsers
Copyright 2005
Quad and 5.1 Setup Tool
This is just one of the software I try to develop. This is actually a tool for setting up Quad (4 speakers) and 5.1 speakers setup. I have noticed in quite a while that many beginners especially those that don't have the time reading manuals on room acoustics and the like are having difficulty setting up their speakers.

This is my little contribution to the GNU development, coz I love freeware. This program has a light footprint and I would very much like you to try it out and give me feedbacks. I posted below some screenshots. I even embedded a sample test audio for you to try out your sound system… If you downloaded it from my site, rest assured its Virus, Trojan, worm free…

My Credentials if you want one is that I had room acoustics units for 1 year at school, had worked with sound setup buffs albeit not THX certified if you're looking for one. I'm an Electronics engineer, and I have successfully practiced this for almost 4 years.

Yes it's better to learn it too, and have a professional setup your speakers and install some room acoustics interior. This Software is just an immediate help, and it will be the fastest I think, anyway it still needs for you to raise your butt up and measure your Room.

Read Labels Carefully, the only Tool you need is a tape measure.


The INPUT screen.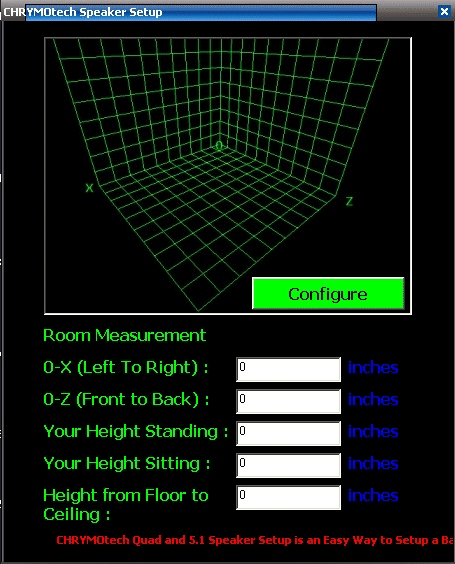 First you need to measure the area where you going to install your system.
Left to right is the measurement with respect to the front.
Front to back is the measurement… well from front to back.
Measure your height (to make it work while your standing up, input some average height values to make it more universal.)
Measure your seating height (to make it work when sitting, input some average too to make it universal)
The General height of your room.
Press
"Configure"
A new page will open for the results…
Heres a Split View of that Window...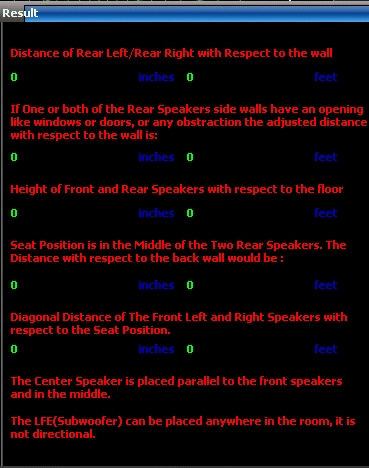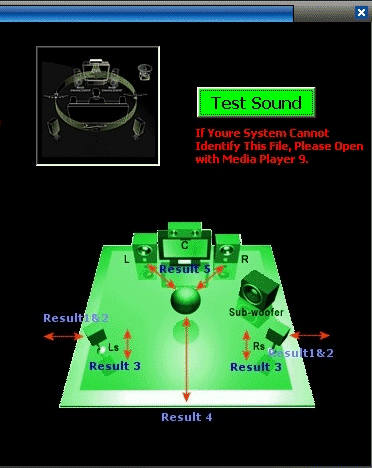 Read the results carefully, it is self explanatory; a graphical example is provided as you can see in the screen shot. At the top Right side a button labeled Test Sound is just an embedding of a sound which will play directly in other PC's. For some it asks for a player, choose windows media player, especially 10. Or any player which has a 5.1 surround sound support.
HEY GUYS I NEED SOME FEEDBACK
Click the link to feedbacks page and give me some feedback. What do you want. Oh and by the way If you want me to design your web sites contact me at demonhale@yahoo.com Kudos
...
 DOWNLOAD spkrsetup5.1.zip
If you find this tool useful and you want to donate to help this sites cause please click the link below.